Winter is a constant three-month struggle of trying to assemble an outfit that is actually sufficiently warm – especially in NYC. Because figuring out what to wear when it's freezing out is hard enough, doing so and making it look fashionable for multiple days in a row is a challenge many aren't willing to take. I want to look cute today, but I am also tempted to simply abandon all hope, and pile on as many thermal pieces together as possible. But hey, just because the cold is causing you to feel uninspired, doesn't mean you have to surrender your style. It just means you'll have to kindle a bit more imagination when looking in your wardrobe. I am determined to still dress fashionable and be warm at the same time and if you feel the same, keep reading for some tips that will improve your wardrobe (and your wellbeing) in the winter. 
Take it from the top
Let's bring it back to the basics. I know basics… What kind of advice is this? Who wants to be basic? Trust me. They're more valuable than you think. A black long sleeve turtleneck is a perfect compliment to classic denim jeans, a sweater vest or will be the zest your old sweatshirt is looking for. You can even pair it with your Summer dress you packed away for the season. That's right. Summer vs. Winter wardrobe is officially canceled. An assortment of basics is your secret weapon to wearing most of your clothes anytime of year. The key is to start with thin layers first like a tank top and a long sleeve undershirt on top before layering a warm sweater. Right there you already have 3 layers and without feeling cumbersome. What I am saying is, long sleeves, short sleeves, tanks. Black, white, brown, grey, etc. You need them. They are great versatile staple pieces that rarely go out of style, so we keep them for ages.
Prioritize Pants, too
We prioritize winter coats, winter shoes, and sweaters, sacrificing warmth in equally essential pieces, like pants. Luckily, as long as you don't live in an extra frigid location like Siberia you can pretty much get away with wearing any bottoms – including ones made with sustainable fabrics – year around with a fashion hack. Tights act as a skin-tight thermal layer that keep you extra toasty without looking bulky. If the weather is extra frigid, ditch the skinny jeans. This season's evolution of slouchy jeans gives you even more room for layers to keep you snug and comfortable in low temperatures. Contrary to belief, you don't need to keep your 6 pairs of pants in rotation. Cold weather isn't the sworn enemy of skirts and dresses anymore. They're actually allies, kinda. Try layering nude colored leggings under your stockings. The nude leggings act as another protective layer while still giving off the resemblance of real skin with confidence and ease. It is your cozy little secret. 
Let's layer up
As any New Yorker would know, the winters aren't so forgiving, so you're going to need to call in some back up. Yes, it may be on the pricey side, but as a penny pincher myself, there's something I will indulge in and that is a nice winter coat. You're going to be wearing the same one every day for almost half of the year, so it's worth buying one that will make it worthwhile.
If you can, accumulate a variety of styles so you have something for every occasion and you're not stuck in the same outfit until Spring. Long length jackets that fall below the knee are an effortlessly way to look immediately elegant and put together. This season, faux fur coats, puffer coats, and blazers are in-style, extremely versatile, and instantly elevate your look. You can dress them up or dress them down simply by switching your sneakers for heels. You can practically wear them with anything and still look cute. For midseason refresh, try incorporating a change in texture to create a high-end look. Pairing your faux fur with a classic leather jacket, or even pair one of your old hoodies with a denim jacket or blazer for a quick fabulous enhancement to your look. Not only is it so cute, you just added another layer that keeps you warm and au courant.
Shake up your shoe game
We made it to the most important part to any stylish outfit, in my opinion. While you definitely need at least one practical pair for winter, I'm here to tell you don't need to sacrifice your style to keep your feet warm during the frigid months. It is important that if you are going to buy new boots this season to choose boots with thermal lining. But if you just can't give up your favorite booties like me, revamp it with a cozy boot liner that acts like a thermal lining. (Thank god!) Of course, don't pass on suede and leather protection sprays during the wettest of winters if you want to maintain the longevity of your boots from season to season. 
Thigh high boots are an absolute winter essential that belongs in your wardrobe. They act as an additional barrier to the cold and can conveniently layer over or under your pants.
When it comes to dressing up, it's hard to make wise choices for your feet. It is especially important to settle for mules or close toed heels in the winter. If you're really dying to dust off your summer pumps a little early, socks can be an elegant, practical accessory to your foot game. Socks and sandals? I know, fashion suicide. But I promise socks with heels is an innovative touch that will elevate your outfit to a new level.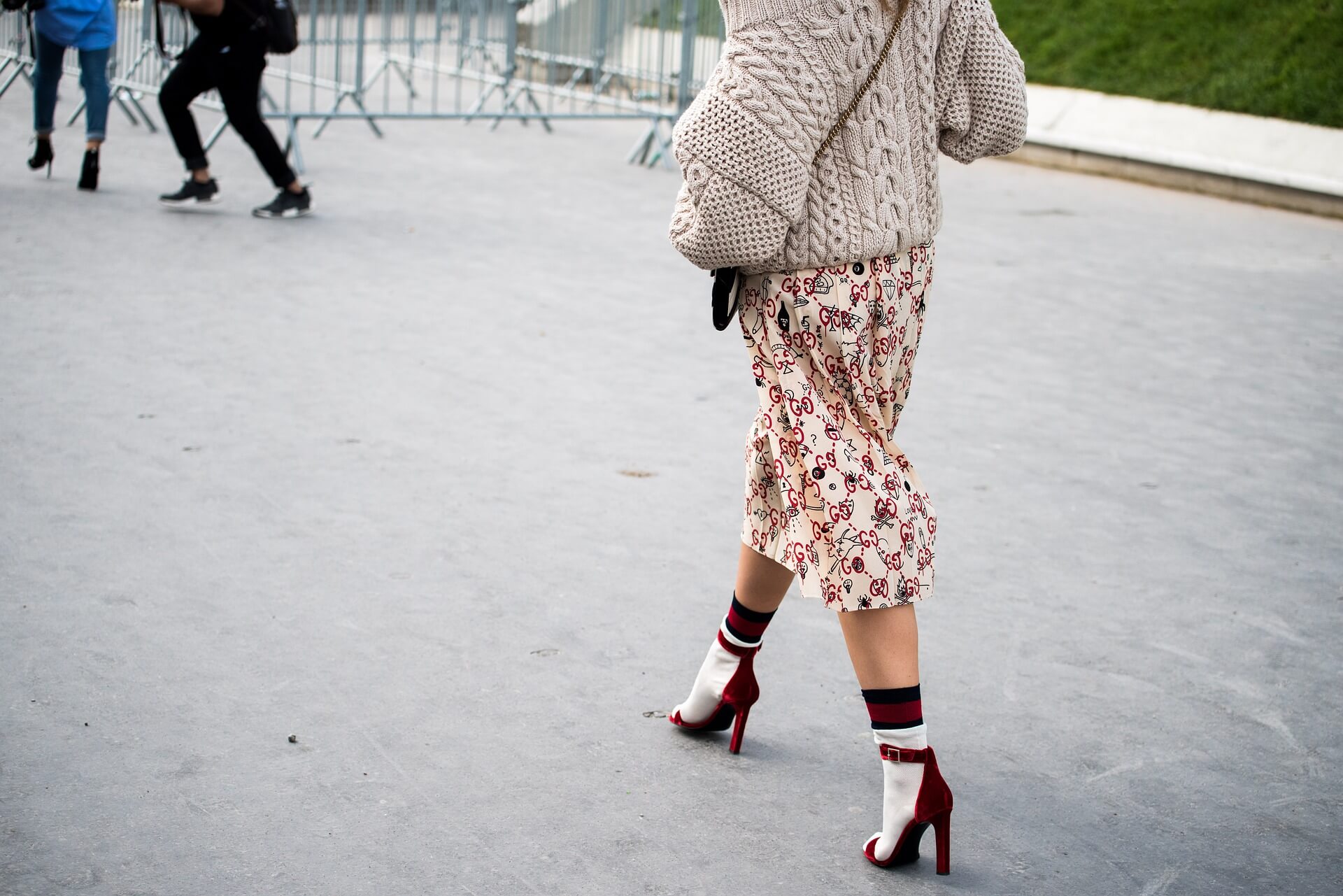 The final touch: accessorize
Day 57 of wearing the same winter coat. It's pretty inevitable that many of us can relate to this. Luckily, accessories are a great way to transform your style into a whole new coat. Freshen up your coat by simply adding a belt to it. Belts Cinch your waist will not only define your silhouette and work with just about any coat style. While bold dressers might prefer a bit of contrast, a monochrome approach is just as good. Buy one belt, instantly get multiple new coats free!
Women's gloves are essential winter accessories like gloves, scarves, and hats that can add new life to your old coat. These accessories offer an opportunity to add color to a dark look, and when working together can make a legendary dream team. Skip the basic beanie or any old pair of gloves. A faux fur bucket hat or beret will take any outfit to the next level and vintage leather gloves are a great addition to any kind of outer wear you own.