What is Governors Ball NYC?
If you live in the New York, New Jersey, or Connecticut area you definitely have attended, or know people who have attended the Governors Ball Music Festival. If you haven't heard of Governors Ball, often referred to as "Gov Ball", it's a music festival on Randall's Island in New York City that began in 2011 and is held at the end of May or beginning of June each year. The festival features a wide variety of different artists, bands and DJ's that represent numerous genres of music from rock to electronic, hip-hop, indie, Americana, pop and folk. It is a place where young teens, to adults, gather to listen to their favorite music, eat their favorite food, and participate in numerous activities. This year there were four large stages and the debut of a fifth mini stage called the Bud Light Dive Bar which exclusively featured emerging artists, including a full roster of emerging artists who are members of the LGBTQ community on Saturday, June 1st.
Food, Food, and More Food
If you went to Gov Ball and didn't try the food did you really go? Gov Ball is not only known for their amazing performances but also for all the amazing FOOD!!! Gov Ball is known for all their Instagramable food moments, fun pop-up experiences, and 65 different food vendors. They have a number of different food and beverage options to cater to everyone's wants and needs. From sweet ice cream in bubble waffle cones to lemonade popsicles, burgers in ramen buns, breakfast tacos, and buttery lobster rolls you will never find yourself hungry at this festival. Along with our beloved Gov Ball favorites such as Wafels and Dinges and Big Mozz, this year attendees also got to experience the most epic food collaborations and brunch creations of all time. I promise you it is impossible to look at these pictures and not get hungry. 
This year we got to experience some very exciting new & exclusive collaboration between some of our favorite Gov Ball vendors. The first collab festival goers got to experience was between Big Mozz and Grillo's Pickles who presented their own version of the fried pickle. The next collab we got to taste was between Melt Shop and King David's Tacos, serving Melt Shop's favorite tater tots with KDT's famous queso. After tasting these two creations festival goers surely needed a refreshing beverage. Thank god RISE coffee and Davey's Ice Cream partnered together to serve up a sweet and energizing affogato dessert drink. Finally, my personal favorite collab of Gov Ball 2019 was the #DoughNug slider from the Doughnuttery and The Nugget Spot. These sweet and savory treats made every last one of your taste buds tingle.
This year's Gov Ball also launched the new Gov Ball Brunch program that was available from 12 pm – 3 pm all three days! Our favorite new brunch options included San Matteo's Brunch Pizza, including a Cacio E Pepe pizza topped with dry cured pancetta, caciocavallo cheese, fresh cracked pepper with the option to "crack an egg on it"! Our other favorite brunch option was King David Taco's Austin Style Breakfast taco. These tacos were packed with bacon, sausage, and cheesy scrambled eggs plus your salsa of choice. Oh! and let's not forget the classic NYC style bagels that were served throughout the weekend and turned a fun rainbow color on Saturday in honor of World Pride month.
"Pizza, Cool Down, Insta-friendly, Lactose Tolerant, Splitsies, Meat Lovers, Sweet Tooth, Vegetarian, Vegan, Gluten Free"
This title recaps the many different categories the 65 different food vendors fell under. Take the time to scroll through the mouth-watering photos and start dreaming about your next meal. These pictures include:
Matcha Bar's dragon milk and lemonade matcha tea

rainbow ice cream in a bubble waffle cone with sprinkles and chocolate sauce

Mac Truck's famous mac and cheese topped with buffalo chicken

Arancini's deep fried meat, veggie, seafood, and dessert rice balls

Destination Dumpling's Korean beef dumplings

Wafels and Dinge's sugar waffle topped with bananas, strawberries, whipped cream, and melted chocolate.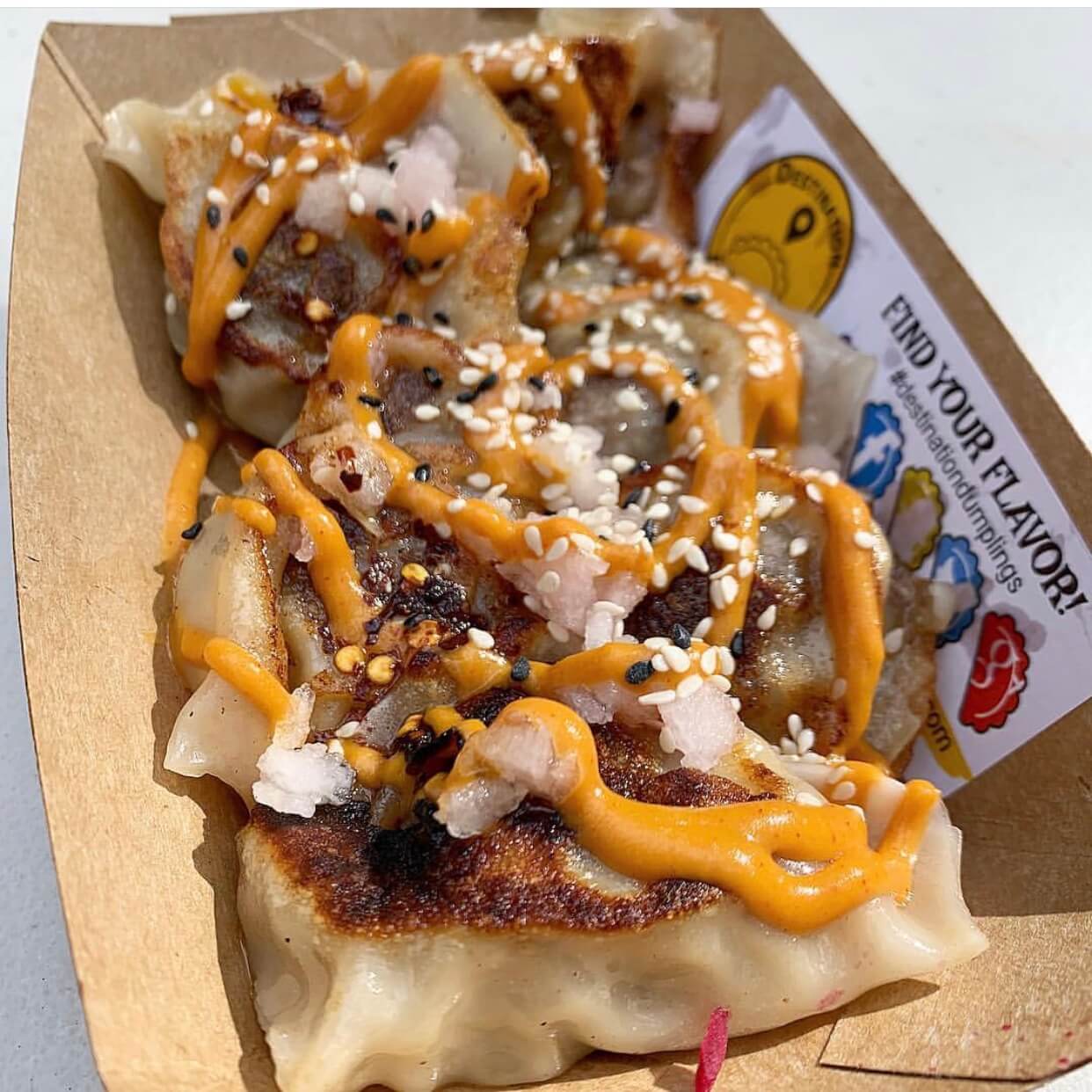 10 Ways to Quench Your Thirst at GovBall NYC 2019
We know it seems like Gov Ball is all about the food, but trust us the beverages are just as important. Let's discuss, and drool over these 10 different beverage vendors that attracted crowds with their trendy drinks, limited edition bottles, and free swag. Whether you were craving a cold beer, a fruity tea, or a creamy milkshake, Gov Ball had it all. To start Gov Ball had the (1) Aperol Spritz sponsored Italian Club, (2) Jameson Barrel Lounge, and the (3) Red Bull Kombi tent which featured the Red Bull Yellow, Orange, and Coconut editions. (4) Titos presented "Tito's Party in the Shack" and there was even a refreshing (5) Pepsi tent. If you were in the mood for some entertainment while you waited for your beverage you could visit (6) Bacardí Bay or (7) Bud Light's Dive Bar for some fun live music. If you visited (8) Campo Viejo Wine Lounge you could get your hands on their fun pink FROSÉ to keep you nice and cool in the hot sun. And if you were feeling a little stressed, then you should have visited (9) GT's kombucha Living Lounge to relax in their zen den. Finally, (10) Beefeater London wanted  you to #PinkYourDrink and served a fun pink gin cocktail made with their limited edition pink gin.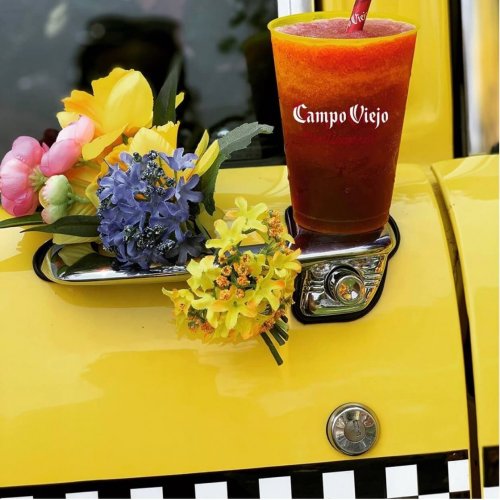 Activities to do Besides Drinking, Eating and Listening to your Favorite Artists
Gov Ball is a three day music festival where guests can roam the festival grounds from early in the morning too late at night participating in any activity they please. We know so far that at Gov Ball you can indulge in some insane food and sip on some fancy drinks while listening to your favorite music at any of the 4 stages. But, we haven't covered any of the other things you can do that don't necessarily include eating and drinking. 
The Gov Ball Bodega & OGX Beauty Playground
This year was the debut of the Gov Ball Bodega where you could purchase bagels, water, and festival essentials (deodorant, chapstick, sunscreen, etc.). But, the coolest part of the new Gov Ball Bodega was that it also served as the festival recycling hub. Festival goers could collect cans and bottles from the festival grounds and redeem them at the Bodega for a reusable limited edition Gov Ball water bottle! After claiming your new Gov Ball water bottle you could head on over to the OGX Beauty Playground. This was the perfect place to visit if you wanted to add some sparkle or pizzazz to your look. At this tented oasis, you could get your own personal festival hairstyle done by an OGX-pert and learn new tips and tricks to recreate the styles at home.
Festivals can end up getting expensive, but don't worry because at Gov Ball, Honda and American Eagle were there to give festival goers some free swag! If you visited the AE experience tent you could have picked up a free festival fanny pack and if you ventured into the Honda Seatbelt forest you could have gotten a free airbrushed tattoo. If you were really lucky you could even have won a free trip to Australia curtesy of Red Rock Deli.
Gov Ball takes place on a huge field, so how could there not be lawn games too. If you're a big fan of Cornhole, Ladder Ball, Bocce Ball, LIFE SIZE Connect 4, or Ping Pong then you should really have been showing off your skills in this section of the festival.
Last and definitely not least, actually probably the most important, were the booths and tents supporting charities. State Farm created a neighborhood of good where every time someone sang a song in their studio, danced in the silent disco, or performed a drum solo Statefarm would donate money to help bring more music education to youths. At the "Charity Corner" you could donate to, and learn about, numerous different charities including Headcount, Everytown, Hoodies for the Homeless, and Vibrant NYC. Also, throughout the whole weekend, the Bud Light tent was celebrating Pride month by selling rainbow aluminum bottles. Each bottle they sold resulted in a $1 donation to assist GLAAD in their efforts to create a world where everyone can live a life they love.