Kim Cameron featured in More Magazine!
Side FX lead singer Kim Cameron was featured in the December 2009 issue of More Magazine! The article, titled, "From IT Exec to Rock Musician," tells Cameron's story of how a life-changing event made her re-evaluate life – and as a result, she wrote a song to convey her emotion. From there, she realized her true passion in music and decided to fully pursue it.
You can read the article in its entirety here.
Amanda Dolan's "Precious Things" opening recap – Saturday, October 17th, 2009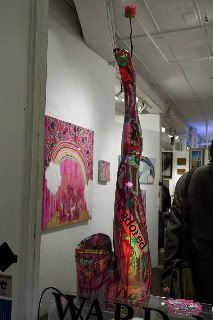 Mixed-media artist and AMP3 client Amanda Dolan unveiled her latest collection of artwork, titled "Precious Things" on Saturday night, October 17th, 2009 at the Ward-Nasse Gallery on Prince Street in SoHo.
Unlike Amanda's other shows, this collection was more cheerful in theme. Each of the pieces featured a vibrant mix of bright colors like pink, blue and purple – all mixed with hearts, flowers, rainbows and more – including Amanda's beloved French bulldog, Pearl. About half of the works from "Precious Things" sold the night of the opening. In addition, Amanda unveiled her first venture into sculpting by creating a piece that featured the bottom half of a mannequin covered in mixed media turned into what Amanda calls a "post-modern flower pot."
Amanda was dressed to match her works of art as well, donning Betsey Johnson from head-to-toe with a black vintage Betsey Johnson dress, black Betsey tights with pink roses, and leopard print Betsey pumps.
White and red wine were served to guests in attendance, along with an array of colorful mini-cupcakes, customized M&Ms, and hard candy shaped in hearts and gem rings to match the occasion.
Amanda's exhibit is on display until October 31st, 2009. For more information about Amanda Dolan, her work, and her private commission portrait services, visit www.AmandaDolan.com.
Grooveshark announces deal with EMI Music and EMI Music Publishing
Today, digital music service Grooveshark.com announced it has entered into agreements with major label EMI Music and EMI Music Publishing that will give Grooveshark users access to content from EMI's roster of current and legendary catalog artists and EMI Music Publishing's songwriters.
Grooveshark offers music fans the ability to stream songs for no fee from a vast catalog of music. Fans can enjoy Grooveshark's music without having to download client software or register. The basic service is free to fans and supported by visual advertising. Fans who opt for a $3 per month premium service can enjoy unlimited ad-free streaming music. The site was recently named the best way to listen to music on the web by Rolling Stone, and just surpassed one million registered users.
Read some of the coverage here:
Billboard
Wired
WSJ's All Things Digital
TechCrunch
CNET
Read Write Web
Paid Content
Download Squad
Creative Deconstruction
Digital Music News