RECAP: Magnifico Giornata Infused Essence Collection Launch Party
On Wednesday, April 3rd, AMP3 client Magnifico Giornata launched their new sparkling wine infused essence collection with an invite-only party hosted by VH1's Carrie Keagan, a partner in the brand. The event was held at the coveted Beaumarchais in New York's meatpacking district, a venue known for their extravagant weekend brunch parties. Guests began arriving at 8pm and were greeted with glasses of Magnifico Giornata. Each of the essences were available for guests to sample and enjoy, including: Ginger Pêche, Grapefruit Blanc, and Lavender Honey. In addition to passed hors d'oeuvres, a pairing table was arranged so that guests could pair small bites created specially to compliment each of the essences. When guests weren't sampling the product, they were enjoying tunes spun by renowned New York DJ, Jeffrey Tonnesen. At 8:30pm, Carrie Keagan formerly kicked off the event by saying a few words about the brand. She then introduced the 1st of 3 performances by burlesque troop Nuit Blanche. Known for their provocative performances, and with sparklers in hand, they did not disappoint. At the end of the soiree, Magnifico Giornata's CEO Bob Manfredonia capped off the evening with a brief thank you speech. On the way out, guests were treated to complimentary gift bags featuring two bottles of Magnifico Giornata and decadent truffles to take home. The event marked the official launch of Magnifico Giornata in the Greater New York Area. The collection will be available at a suggested retail price of $24.99 a bottle in finer liquor stores and lounges throughout the city, and will roll-out to other key markets in the U.S. during 2013.
Notable attendees at the celebration included: Carrie Keagan (Host, VH1's Big Morning Buzz with Carrie Keagan), Phillip Bloch (Celebrity Stylist), Janell Snowden (VH1), Trey Morgan (Radio Host, Z100), Kristen Ruhlin (Actress), J Smith Cameron (Actress), Cara Castronuova (Fitness Personality/Trainer, The Biggest Loser, Season 11).
For more information about Magnifico Giornata, please visit: www.magnificobrands.com.
Twitter: @MagnificoGio #BeMagnifico
If you're looking for Consumer PR or Event PR services, please contact Ashley Lutzker of AMP3 Public Relations at 646-827-9594 or info@amp3pr.com.
RECAP: Nolcha Fashion Week presented by RUSK
Nolcha Fashion Week: New York presented by RUSK wraps-up Fall/Winter 2013 runway presentations
New York, NY (February 18th, 2013) — On Wednesday, February 13, Nolcha Fashion Week: New York Fall/Winter 2013 presented by RUSK held their runway shows at Pier 59. The day-long event featured 3 runway shows, and 13 designers. Now in its sixth year, Nolcha is one of New York's leading platforms for independent fashion designers, and this season's designers were global in scope including designers based out of China, Sweden, The UK, Brazil, and across the U.S.
The 1:30pm show featured: Mikailee Alton, Tess Johnson, Dos Caras Swimwear and The Vanity Project (featuring select shoes by Cat Footwear). The Vanity Project had celebrities walking in their show including rock-band "Early Morning Rebel," Steve Maneri (Tight-end for the Kansas City Chiefs) and Robert McClain (defensive-back for Atlanta Falcons).
The 4:30pm show featured: Diana Simaan, Studio 6th Sense, Andressa Leão, Adolfo Sanchez and Michael Fenici. The Michael Fenici show included NYC's most notable business men—including Nolcha's own President, Arthur Mandel—making their catwalk debut to illustrate how Fenici's bespoke suits are customized to different types & styles of men.
The 7:30pm show featured: JUNGWON (designer rain coats) Samantha Cole London, Lilly Lorraine and Dany Tabet. Tabet shocked the audience when during his finale walk, he stopped the music and started talking about his muse. He pulled her out of the audience and got down on one knee with a Tiffany box wrapped in a ribbon and proposed. The entire audience rose to their feet in a standing ovation and she said yes, it was an incredible moment where Fashion Week actually stood still, if only for a minute.
Celebrity attendance at the shows included: Carrie Keagan (VH1) with hair by RUSK, Dawn Olivieri (House of Lies) who was wearing Nolcha designer Tess Johnson, Sammi "Sweetheart" Giancola (Jersey Shore), Kacie Boguskie (The Bachelor) who wore looks by Nolcha's designers Diana Simaan & Lilly Lorraine, Waka Flocka (rapper), Masha (recording artist), Allure (female R&B group), Briella Calafiore (Style Network's Glam Fairy), Early Morning Rebel (rock band), Krystal Joy Brown (Broadway star, "Big Fish") who wore Dany Tabet, Guinevere (recording artist), Steve Maneri (Kansas City Chiefs), Robert McClain (Atlanta Falcons), and James Anderson (Carolina Panthers).
The Presenting Sponsor RUSK returned for a second consecutive season, and was joined by Official Sponsors: smartwater, CLEAR, RealBeanz, DON Q Rums, FOCO Pure Coconut Water and American Airlines.
For more information, visit: www.nolchafashionweek.com. For any press related inquiries, please contact Alyson Roy of AMP3 Public Relations via 646.827.9594 or nolcha@AMP3pr.com.
About Nolcha Fashion Week: New York
Nolcha Fashion Week is a leading award winning event for independent fashion designers to showcase their collections to a global audience of press, retailers, stylists and industry influencers. Over the past five years Nolcha Fashion Week has established itself as a platform of discovery promoting innovative fashion designers through runway shows and exhibition during New York Fashion Week. The event is an officially recognized New York Fashion Week platform by New York City Economic Development Corporation; offering a range of cost effective options to increase designers recognition and develop their business.
www.nolchafashionweek.com | facebook.com/nolcha | @nolchafashionwk #nolcha
About RUSK
Fashion + Culture + Attitude. RUSK is passionately dedicated to the art of hairdressing and represents unparalleled creative artistry and individuality in the professional haircare world. With a synergistic approach to cut, color and style and a complete range of high-performance products and tools, RUSK empowers professional stylists and their clients to achieve extraordinary results both in the salon and at home. From Deepshine™ Hair Color and RUSK Professional Engineering tools to iconic styling products like w8less, thickr and str8, RUSK products are available at fine salons around the world and at Cosmoprof and ULTA stores throughout the US.
www.rusk1.com | facebook.com/ruskhaircare | @ruskhaircare
Client Mixify.com lands 2 exclusives in Billboard in 1 week
It's been a great week for our client, the world's never-ending electronic music festival: Mixify.com.
In conjunction with their upcoming event, RISE Digital Music Festival, we secured two exclusive stories with Billboard Magazine. The first was a business-centric story, announcing their impressive new partnerships in the EDM space, the second was a consumer-facing story, announcing the line-up for RISE fest.
For more information, check out www.Mixify.com.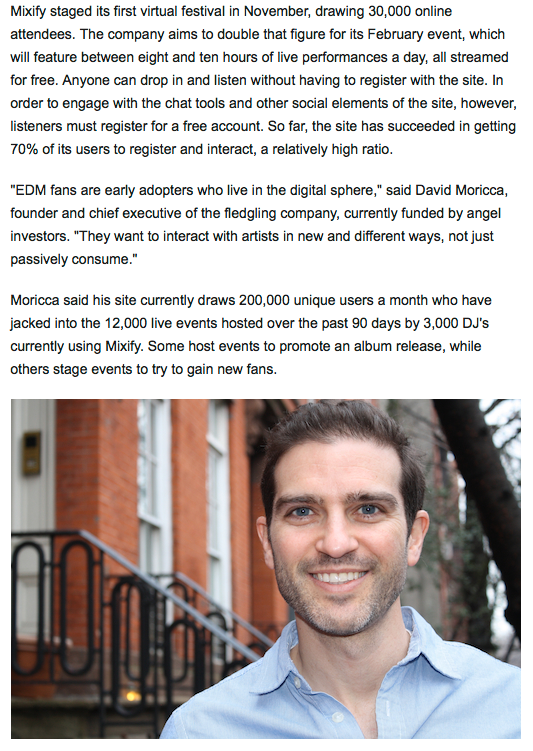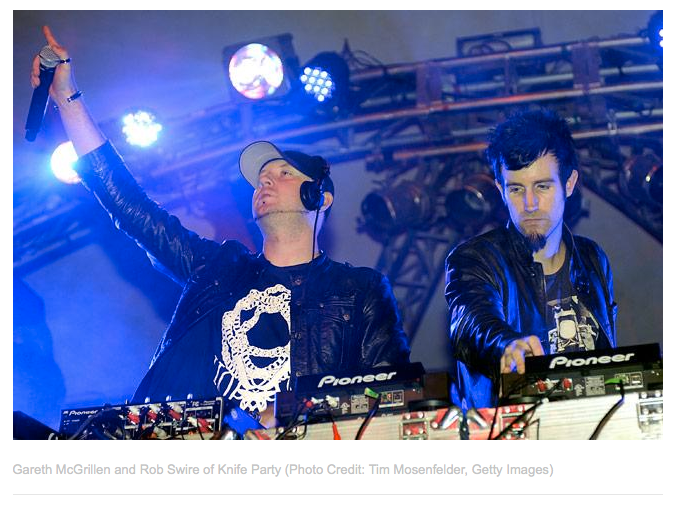 AMP3 PR Adds Magnifico Giornata To The Client Roster
AMP3 PR has added Magnifico Giornata to the client roster.
Magnifico Giornata is a brand new collection of essence infused sparkling wines that will launch in Spring 2013. The product will be low calorie, at less than 100 calories per 4 oz serving, and available in 3 unique essences: Ginger Pêche, Lavender Honey, and Grapefruit Blanc.
For press inquiries, please contact Ashley@amp3pr.com or 646-827-9594.